Environmental
Preliminary Review Under the California Environmental Quality Act (CEQA): The City must review the developer's final application to determine what type of review is required under CEQA. Not every project requires a full environmental analysis. In addition, because the Legislature wants to streamline the construction of housing projects in California, the state has created multiple statutory exemptions for housing and streamlined regulations for certain types of projects that typically do not have substantial impacts on the environment.
Here, the City has hired a consultant that will conduct an initial study to determine the scope of review required under CEQA. The consultant will determine: (1) whether, under the criteria established in state law, the project may have any significant environmental impacts and (2) whether those impacts could be "mitigated"—that is, whether there are any measures that can reduce those impacts to an "insignificant" level. Based on the result of this study, staff will make an initial determination that the project either: (1) is exempt from CEQA review; (2) requires a Negative Declaration (that there are no significant environmental impacts, or that there are significant environmental impacts but those impacts can be mitigated so that no Environmental Impact Report is required); or (3) requires a full Environmental Impact Report
CEQA review is required to begin when the application is complete but may begin earlier. The process the City will follow after completion of the initial study will vary depending on whether the project is exempt from CEQA review, requires a Negative Declaration, or requires a full Environmental Impact Report. In any case, the Planning Commission and City Council (if a decision on the project is appealed) must review the CEQA documents as part of their review of the project and make certain findings.
BRIG's position, as communicated to the City, is that the City should require a full-scale EIR. Why? Because the project would be built in a flood zone and on bay mud in an earthquake zone, and because the project would directly impact the lagoon and its sensitive ecosystem. An EIR would provide the most comprehensive environmental review. With a project of this magnitude and significance to our small town, it is important that the City gather all relevant information in order to make an informed decision.
The Impacts of the Mallard Pointe Project
The Mallard Pointe Project poses a threat to the quality of life and environment for the inhabitants of Belvedere. Learn more about the impacts of the largest proposed residential demolition and development project in the city's history.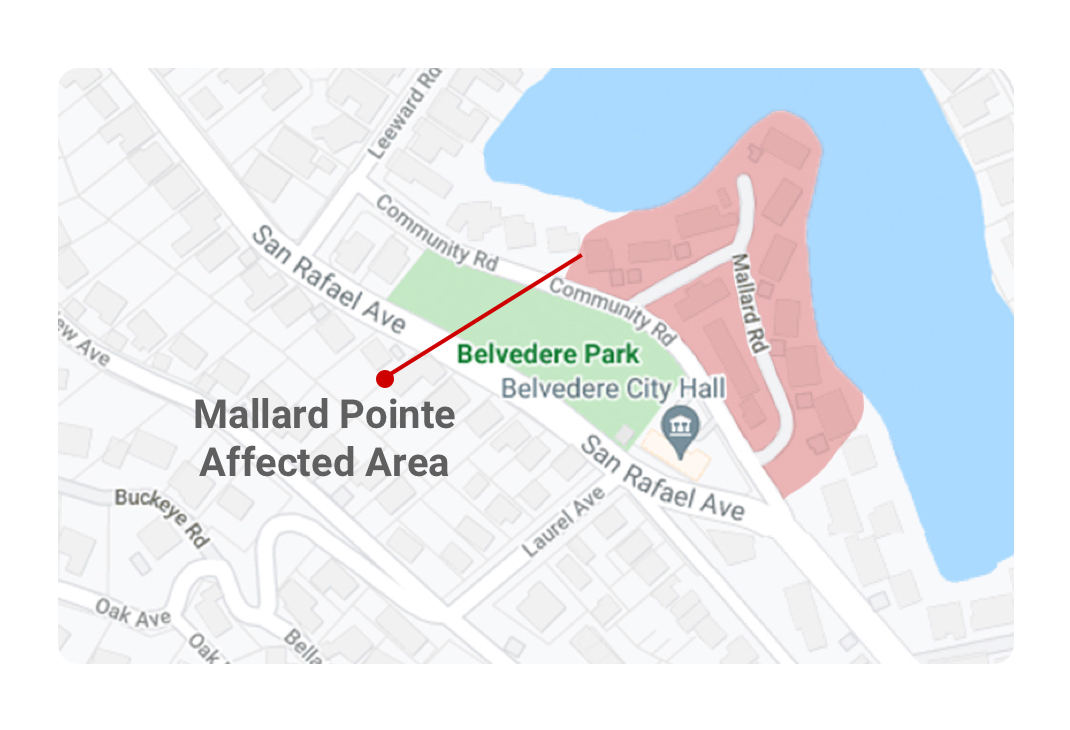 The largest proposed residential development in the history of Belvedere is also the largest proposed demolition in the history of Belvedere.
Learn More