To: Mr. Robert Zadnik (Belvedere City Manager), Ms. Irene Borba (Belvedere Director of Planning and Building), Members of the Belvedere City Council, and Members of the Belvedere Planning Commission:
As Belvedere residents who are deeply concerned about the future of our community, we urge you to follow Belvedere's Municipal Code and find the proposed Mallard Pointe development to be noncompliant with Belvedere's zoning provisions.
The proposed multi-story, 23-unit apartment house directly conflicts with R-2 zoning's express prohibition on apartment houses (BMC Section 19.28.030).
The prohibition on apartment houses is fully consistent with the City's General Plan.
The City is not required to waive the apartment house prohibition under the State Density Bonus Law or any other provision of state law. Waivers are only allowed for Belvedere's listed "development standards," such as height, setbacks, and open space (BMC Section 19.28.040), and the apartment house prohibition is not a "development standard."
Because the project as proposed is not consistent with Belvedere's R-2 zoning provisions, it may not lawfully be approved under the streamlined process provided by SB 330.
For the proposed project to be approved, a rezoning would be required.
Our conclusions are based on the legal opinions of BRIG's retained counsel, Mark Wolfe and Pam Lee, previously submitted to you.
Respectfully,
Karen Akin, Nan Allen, Andy Anderson, Carol Anderson, Kimberly Baltzell, Edward Barber, Nancy Barbour, Andrew Barnett, Jill Barnett, Joan Barth, Caroline Beard, Geoffrey Beard, Don Bekins, Cathy Benediktsson, Linda Bine, Jeffrey Binstock, Randee Binstock, Laura Blair, Matt Blair, Gayle Blum, Michael Blum, Diana Bradley, Ann Briggin, Herb Briggin, Robert Brown, John Busterud, Ann Butler, Jerry Butler, Jeanette Carr, Martin Carr, Ed Cherry, Janis Cherry, Susan Cluff, Tim Collins, Al Cooper, Mac Couto, Patricia Couto, Daniel de Mos, Denisha de Mos, Suzy Decker, Bill Deer, Deborah DiGangi, Terrie Digangi, Sandy Donnell, E. Doyle, Robin Eber, Joan Emery, Carole Engler, Gwendoline Epstein, Robert Epstein, Justin Faggioli, Bob Falltrick, Jeannine Fang, Lynn Flick, Andrew Frankl, Dana Garrick, Phyliss Garrick, Barbro Greene, Frank Greene, Ed Greenfield, Bambi Griffin, Bob Griffin, Joyce Griffin, Martin Griffin, Sarah Griffin, Kristal Hale, Carli Hamilton, Scott Hamilton, Carolyn Hansen, John Hansen, Haig Harris, Lisa Harris, Muriel Harris, Joan Harter, Peggy Hayman, Dana Hemburger, Susan Hemburger, Bob Herwick, Jan Herwick, Clint Hill, Katherine Hill Perasso, Kirstin Hoefer, Anthony Hooker, Bethany Hornthal, Jim Hornthal, Ann Hoskins, Dunbar Hoskins, Lawson Hubbard, Paula Hubbard, Denise Ivory, J. James, John Jenkins, Andrew Kahn, Diane Kahn, Jay Kellett, Pauline Kelly, Hanns Kristen, Ann Lacey, Tad Lacey, John Lamar, Nate Lane, Courtney Leary, Mark Leary, Alex Leitstein, Bob Leitstein, Mimi Levison, Walter Levison, Ann Likas, David Likas, Harry E. Likas, Barbara Lonn, Mary Loveland, Catherine Lowell, Fred Lowell, Lisa Lowell, John Maine, Justine Maine, Susan Malone, Leary Mark, Leslie Mathews, Lisa McCubbin, Ann McIntire, John McQuown, Leslie McQuown, Gerri Miller, Wendy Miller, Sue Milliron, Ann Morrison, Thomas Murray, John Neerhout, Peter Newman, Tom Nord, Karen O'Connor, John O'Neill, David Parquet, Kate Parquet, Christie Pastalka, Thomas Pastalka, Doug Patterson, Jami Patterson, John Pearson, Kathleen Pearson, Kelly Jean Perasso, Paige Peterson, Preston Petty, Joan Philipp, Steve Piatek, Emily Poplawski, Eugene Porter, John Porter, Patty Powell, Joni Pratt, Russ Pratt, Bill Price, Eva Price, Gwen Price, Hannah Price, Nick Price, Tom Price, Deva Putney, Jock Putney, Kathryn Rauhut, Amanda Rickel, Rick Rockwell, Meg Rosegay, Jane Rosen, Marjon Row, Andrew Rowlands, Georgia Sales, Dick Schoenbrun, Zoila Schoenbrun, Rhoda Schwartz, Abbie Scianamblo-Rockwell, Irene Scully, Nancy Simmons, David Kenneth Smith, Harry Smith, Suzanne Smith, Harry Somerfield, Edith Spindler, Howard Spindler, Cathy Steck, Elle Stephens, Paul Stephens, Alison Stiefel, Jack Stiefel, Ed Still, Janice Still, Kathy Stoehr, Connie Strycker, Walter Strycker, PJ Svanfeldt, Susan Svanfeldt, Brian Swift, Suzanne Swift, Starr Taber, Chris Telischak, John Telischak, Geri Thayer, Graham Tibbets, Ginny Tierney, Hugh Tierney, Henry Timnick, Gaye Toney, Lani Valentine, Eric Watson, Jena Watson, Robyn Watson, William Watson, Joyce Wells, Helen Werngren, Magna Wesslund, Justin Wickett, Corinne Wiley, Dellie Woodring, Doug Woodring, Doug Woodring Jr., Ron Zech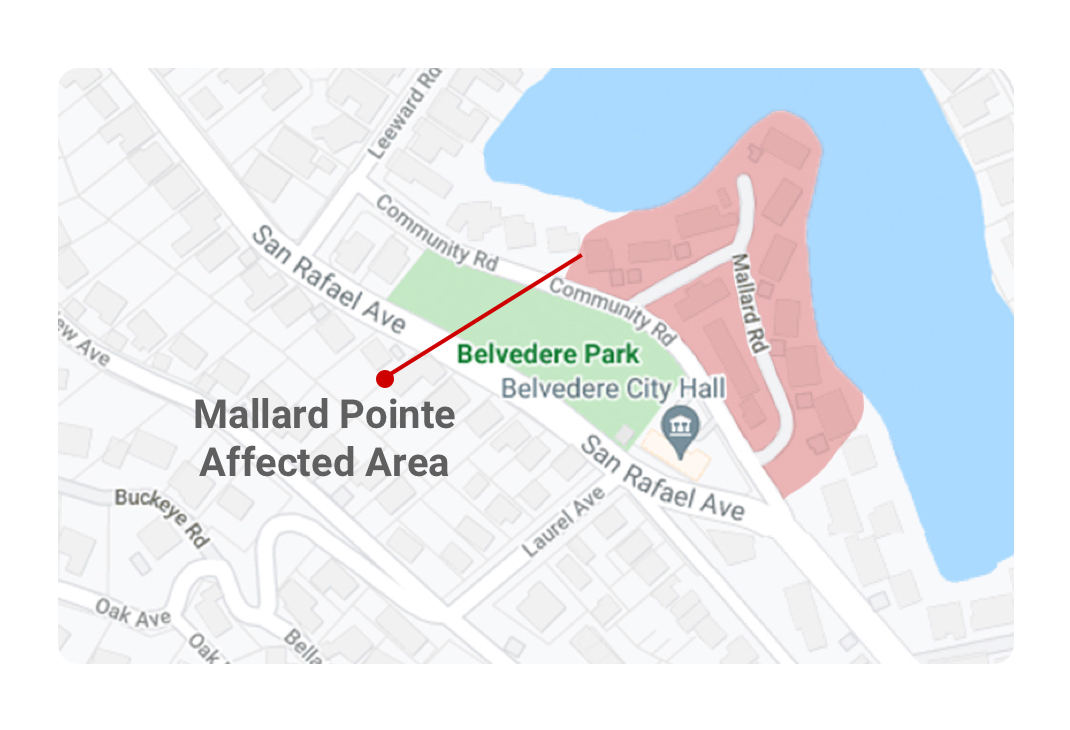 The largest proposed residential development in the history of Belvedere is also the largest proposed demolition in the history of Belvedere.
Learn More