Simultaneous Projects Don't Align With Goal to Ease Construction Impact
Letter to the Editor
Published in The Ark
February 9, 2022
In the Feb. 2 issue of The Ark, it was noted that the Belvedere City Council developed a list of priorities that include construction of fortified seawalls along San Rafael Avenue, Beach Road, and West Shore Road, and mitigating impacts construction projects have on the community ("City officials point to seawall, housing, impact from construction," pg. 5).
Separately, the Belvedere City Council has 30 days to review a proposed massive construction project at Mallard Pointe, which lies between San Rafael Avenue and Beach Road ("Developer submits final plans," front page). Is the City Council considering the horrific impact that the simultaneous construction of two seawalls and the largest residential construction project in decades going on at the same time will have on what is already a frustrating and treacherous traffic situation on Tiburon Boulevard and San Rafael Avenue every weekday afternoon? I shudder to imagine the time it will take to go from my home on San Rafael Avenue to Highway 101, competing with school pick-ups, and two or three times the current numbers of construction workers in individual vehicles along with heavy trucking equipment. God forbid I have to rush my husband or elderly parents, who live at Point Tiburon, to MarinHealth with a life-threatening emergency at 4 on a Thursday afternoon.
If the City Council is truly prioritizing the necessary construction of seawalls and mitigating the impact construction projects have on the community, then allowing the Mallard Pointe Project to move forward as proposed is completely incompatible with their stated goals. And if Mallard Pointe gets fast-track approval, it's like opening the floodgates to more developers.
This is an issue that affects every single resident of Tiburon and Belvedere. I urge you to contact each of the five members of the Belvedere City Council so they hear our collective voices loud and clear.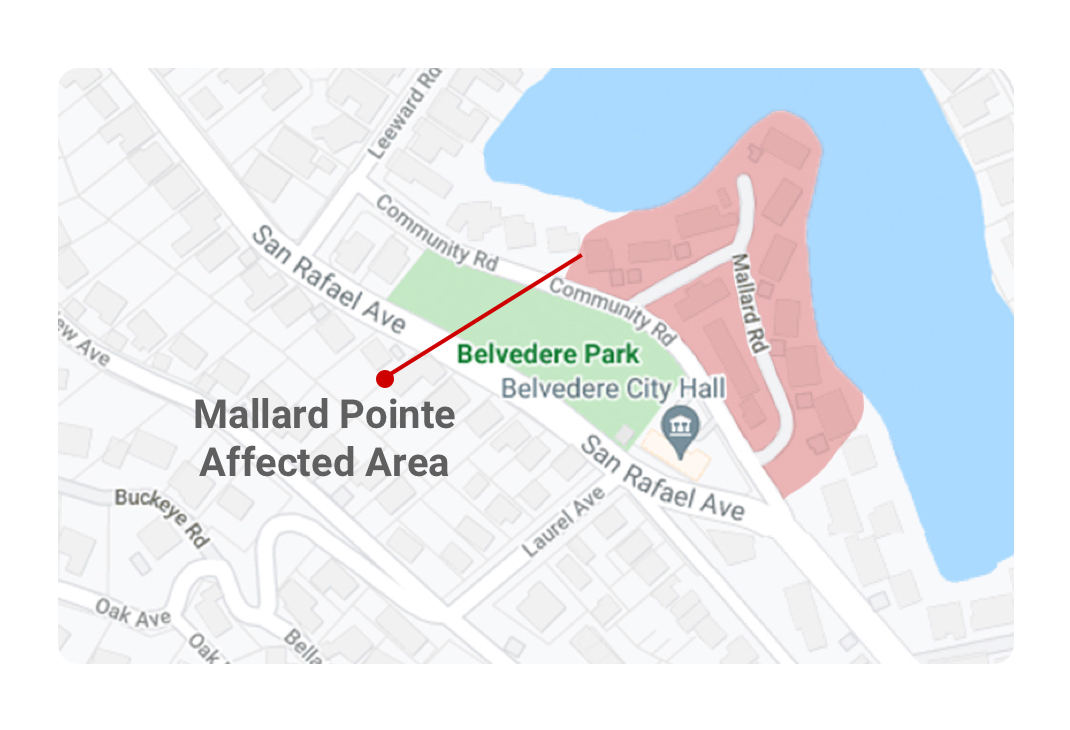 The largest proposed residential development in the history of Belvedere is also the largest proposed demolition in the history of Belvedere.
Learn More